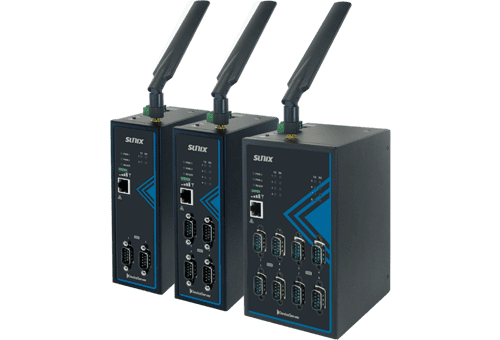 Device Server
Easily connect between serial and Ethernet networks, which can achieve the centralized management of serial devices and distributed management of hosts in the network. Support RS-232/422/485, equipped with port 10 / 100M Ethernet or 802.11 b / g / n wireless feature.
◆ Multi-serial ports supporting RS-232/422/485.
◆ Optional 10/100M Ethernet and 802.11 b/g/n WiFi.
◆ Support Real COM, TCP, and UDP socket mode.
◆ Configure via Telnet/Web/Windows utility.
◆ Dual 12 ~ 48VDC redundant power inputs.
◆ 15KV ESD protection meets IEC-61000-4-2 standard.
◆ 2.0KV Surge protection meets IEC-61000-4-5 Level 3 standard.
◆ 1.5KV Isolated protection meets IEC60747-5-5 standard.
◆ Support Wall Mounting & DIN-rail Mounting Installation.
◆ Industrial 0 ~ 80°C operating temperature range.
TCP / UDP Socket
You can also use TCP/UDP socket programs to control Device Server serial port. Device Server can be configured as TCP Server, to listen to TCP connection request, or as TCP Client, to actively request TCP connection to send data, or as UDP mode for multiple destination transmission.
Real COM
After installing Device Server Tools Windows utility, the serial port on the Device Server can be accessed by the Windows as the Real COM port. Users do not have to modify the existing program to upgrade the latency serial communications into serial over IP application.
Flexible Installation
Device Server series have flexible mechanical design that helps users to install them either on DIN Rail or wall. It provides more convenience to users to fit the product according to their application requirements.
Security Control
Available for WLAN security: WEP. WPA. WPA2
Web Console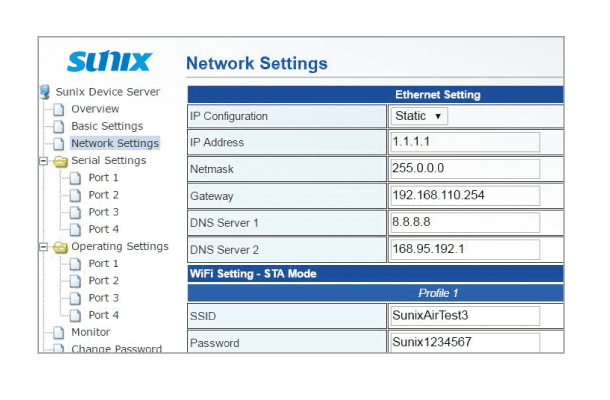 Windows Utility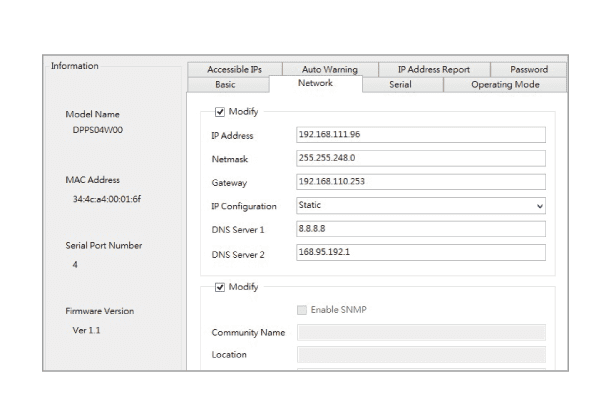 Device Server
Wireless Serial Tunneling
AD-HOC Mode
Ad-hoc mode is comprised of WLAN-capable devices that are able to automatically locate and communicate with each other. Ad-hoc mode does not require an access point and is therefore the cheapest method of setting up a wireless network. Ad-hoc mode is fast and easy to set up. It is an acceptable method for establishing a temporary, short-range wireless network.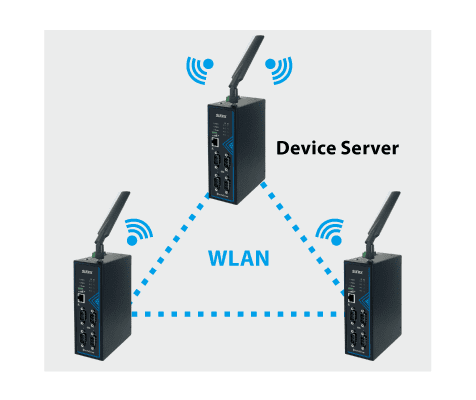 Infrastructure Mode
Logically, an infrastructure network is the wireless equivalent of the Ethernet hub.A fundamental aspect of infrastructure mode is that wireless clients cannot talk directly to each oth- er; they must communicate through the network behind the Wireless access Point.
Most WLAN applications use infrastructure mode, where wireless clients only communicate with an access point that is connected to a network backbone. The clients use this ac- cess point to gain access to the network behind it.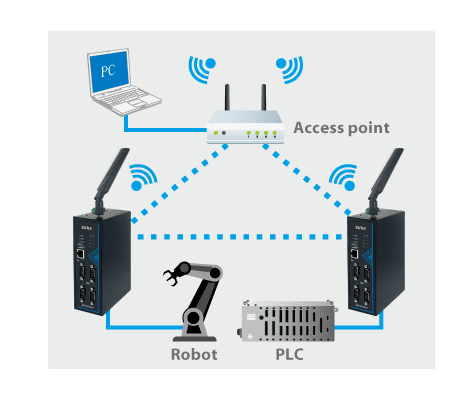 Application Topology
Warehouse Management Scenario